9th year: November 1-4, 2018 in Ottawa, Canada.  

}

to go.
A four day showcase of modern experience design trends shaped as

 Canada's premier annual UX event 

, featuring hands-on workshops and a  world-class mix of amazing presentations , with plenty of chances to find inspiration, learn, exchange ideas and make new friends,

eh?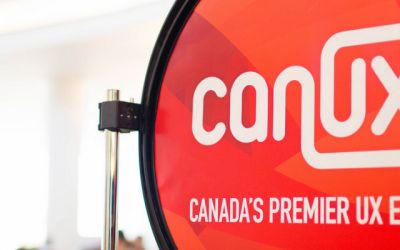 CanUX 2018 preparations are well under way.


ACCOMMODATIONS FOR CANUX 2017 (ACROSS THE STREET FROM THE VENUE):


CANUX RATE: $115 CDN / NIGHT AT THE FOUR POINTS BY SHERATON
Canadian Museum of History
CanUX 2016 Venue
Canadian Museum of History Theatre 100 Rue Laurier Gatineau, QC East Entrance
CANUX CODE OF CONDUCT:

(SHORT VERSION)
"CanUX is dedicated to provide a harassment-free conference experience for everyone, regardless of gender, race, ethnicity, religion, age, sexual orientation, disability, physical appearance or body size. We do not tolerate harassment of conference participants in any form. Offensive sexual language and imagery is not appropriate for any conference venue, including talks. Conference participants violating these rules may be sanctioned or expelled from the conference without a refund at the discretion of the conference organizers." [ LONG VERSION ]